If you have purchased the latest generation of Kindle, you most likely will want to buy a cover for it and maybe a light so that you can read at night in bed. You can now take care of both of these accessories with one purchase.
The newest Kindle cover
has a reading light built right in and it draws it's electricity right from the Kindle so you never have to buy batteries for it. When you need to use the light you just pull it out and it automatically illuminates without adding any glare.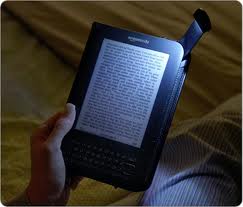 And, like previous versions of the Amazon Kindle Cover, it's comes with the hinge system so that the Kindle locks right in place and is safe and secure in the cover. The cover also folds back so that you can read with just one hand.
The cover is made of leather and comes in seven different colors: black, burnt orange, chocolate brown, hot pink, steel blue, apple green, and burgundy red.
Check out all the colors here
The Kindle Lighted Leather Cover has had some very good reviews with the average review being four and a half stars. This is from 38 reviews so far.