Here's a Kindle book that is 50% off. The Mule by Randal Bablitz is only 99 cents at Smashwords. Use code TH37Y to get $1 off.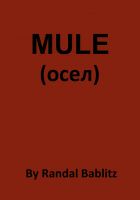 The Mule
Use code TH37Y to get $1 (50%) off The Mule
by Randal Bablitz
Category: Suspense
Price: $0.99 Save $1
When a young professional man encounters a Russian mob boss, he is offered a shortcut to wealth. But first, Jay must take on the job of smuggling drugs. His life is turned upside down as he exposes himself to the dangers of the underworld. His keen wits and luck see him through. But will this be enough when he faces the violence and treachery of a gang war in northern Mexico.
Get this Kindle book here: The Mule
If you would like to have the daily emails of free Kindle books and other Kindle news sent to your inbox sign up here.
You can have this blog sent wirelessly to your Kindle. Try it out with a free 14-day subscription here: Ereader News Today on your Kindle