Here are 3 more Kindle freebies for today. The first book is from Smashwords and you'll need to use the code GF32L to get the book free. The other two are from Amazon.
Here's how to get books from Smashwords onto your Kindle
Check out today's Book Of The Day: The Harvest
When you go to download free books make sure the price is $0.00 or they will NOT be free. This is why you need to download the free books asap – while they're still free. If you are outside of the United States, these books may not be free.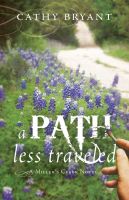 A Path Less Traveled
You will need to use the code GF32L to get this book free.
by Cathy Bryant
Rating: 4.5 Stars
Genre: Christian Romance
Price: $0.00 Save $3.99
Trish James is tired of being rescued. When a spooked horse claims her husband's life, she's determined to blaze a path for herself and her traumatized son without outside help. But will that mean leaving the place etched on her heart?
Get this free Kindle book here: A Path Less Traveled
******************************************

This book is no longer free
by Christa Allan
Rating: 4.1 Stars
Genre: Christian Fiction
Price: $0.00 Save $13.99
Leah Thornton's life, like her Southern Living home, has great curb appeal. But a paralyzing encounter with a can of frozen apple juice in the supermarket shatters the façade, forcing her to admit that all is not as it appears. When her best friend gets in Leah's face about her reliance on alcohol to avoid dealing with her life, Leah must make an agonizing choice—seek help against her husband's wishes or put herself first for once. Joy and sadness converge and unwelcome insights intrude, testing Leah's commitment to sobriety, her marriage, her motherhood, and her faith.
Get this free Kindle book here: Walking on Broken Glass
******************************************

Bubba and the Dead Woman
by C.L. Bevill
Rating: 4.3 Stars
Genre: Mystery & Thrillers
Price: $0.00 Save $0.99
Bubba Snoddy is a good old country boy with a big problem. Although he's personable, handsome, and lives in a historical Southern mansion in a small Texas town, he has just discovered the dead body of a woman to whom he was once engaged to marry. His ex-fiancée was responsible for Bubba being thrown out of the military which in turn caused his shameful return to the tiny town of Pegramville, where everyone is a consummate gossip and no one has any secrets. Sheriff John Headrick believes Bubba killed his ex-fiancée in a fit of vengeful rage. The townsfolk believe that Bubba killed his ex-fiancée in a fit of vengeful rage. Bubba's own mother believes that Bubba killed his ex-fiancée in a fit of vengeful rage. To top it all off, there are some mighty strange goings-on at the Snoddy Mansion, where ghosts walk the halls rattling chains in the midnight hour, and Bubba's own sainted mother, Miz Demetrice, runs an illegal gambling ring. Rumors run merrily rampant about Bubba, decadent Snoddy ancestors, missing Civil War gold, a to-die-for sheriff's deputy with the greenest eyes Bubba's ever seen, and a Basset Hound named Precious who likes to nip first and ask questions later. Bubba has to find out exactly who did murder his ex-fiancée and quickly before he goes to jail for the crime, or before someone murders him.
Get this free Kindle book here: Bubba and the Dead Woman
If you would like to have the daily emails of free Kindle books and other Kindle news sent to your inbox sign up here.