Here are 3 more free Kindle books for this afternoon. The first book is from Smashwords and you'll need to use the code FC29Q to get the book free. The other two are from Amazon.
Here's how to get books from Smashwords onto your Kindle
Check out today's Book Of The Day: The Harvest
When you go to download free books make sure the price is $0.00 or they will NOT be free. This is why you need to download the free books asap – while they're still free. If you are outside of the United States, these books may not be free.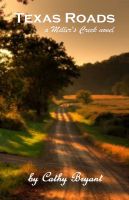 Texas Roads
Use the code FC29Qto get this book free.
by Cathy Bryant
Rating: 4.67 Stars
Genre: Contemporary Romance/Christian Fiction
Price: $0.00 Save $3.99
City gal Dani Davis just wants to find a place to call home. Miller's Creek, Texas seems like the perfect place to start over, except for the cowboy who gives her a ride into town. Dani secretly finances renovations to the downtown area of Miller's Creek, but malicious rumors force her to choose between keeping her involvement a secret and the home for which she's always longed.
Get this free Kindle book here: Texas Roads
******************************************

Chiczofrenia – crazy is an art form
by Laina Turner
Genre: Self-Help/Motivational
Price: $0.00 Save $0.99
Chiczofrenic is the term for the woman who is purposeful and intentional in how crazy their life may be. The goal with this book is to recognize many women drive themselves crazy, intentionally, by trying to be all they can. I firmly believe we can have it all. A great relationship, be a great mom, keep a good house (if that's important to you), be a career woman, follow our dreams, work out, eat right, and many more. Women seem to have the knack of how to manage it all and not go crazy. Women seem to always take on more and more…and are successful at it.

Women have tried forever to pretend they fit in the norm even when the norm wasn't what they wanted. I want women to embrace that more – without caring what anyone thinks. Learn to laugh at your own craziness and be cool at the same time. Be the strong individual you want to be while looking like a million bucks.

Being a woman is difficult and is a constant journey and evolution of self discovery. It's not always an easy journey and through the process you realize everyone has her own issues. Her own brand of crazy which is my own kind of normal. Crazy but embracing it.
Get this free Kindle book here: Chiczofrenia – crazy is an art form
******************************************

Graveyard Games
by Sheri Leigh
Rating: 3.5 Stars
Genre: Suspense/Horror
Price: $0.00 Save $16.50
Dusty has always been the hothead in the pair — her twin, Nick, he was the calm, cool and collected one. But now Nick is dead, found murdered in their local cemetery, and Dusty, on forced leave from her job as a Chicago police officer, goes back to her childhood home to attend the funeral.

It becomes quickly apparent to Dusty that the local authorities aren't being straight with her, or anyone else, about what's been going on in the little Midwestern town she grew up in. The detective in her kicks in and she decides to find out what–or who–has killed her brother, so she moves in temporarily with her father and stepmother, takes a job in a local bar, and starts asking questions.

Her focus soon fixes on Shane, her brother's best friend–the town bad boy and bad seed. The tension between the two of them has always been palpable, and nothing has changed. Sparks fly as they collide, and while Dusty finds herself sinking in deeper with Shane, the mystery of what happened to her brother–and an ever growing list of victims–grows even stranger.

Dusty finds her past haunting her everywhere she goes as she continues to dig deeper into the circumstances of her brother's death, and her future looms large as her fate as a police officer is about to be determined back in Chicago. With everything coming to a head, she focuses on one thing: What happened the night her brother was killed in the cemetery? She's sure Shane knows… something… and she's determined to find out what it is, one way or another.
Get this free Kindle book here: Graveyard Games
If you would like to have the daily emails of free Kindle books and other Kindle news sent to your inbox sign up here.