Here are 3 more free Kindle books for today. The first book is from Smashwords and you'll need to use code PG92V to get it for free. The other two books are from Amazon.
Here's how to get books from Smashwords onto your Kindle
When you go to download free books make sure the price is $0.00 or they will NOT be free. This is why you need to download the free books asap – while they're still free. If you are outside of the United States, these books may not be free.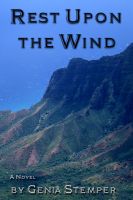 Rest Upon The Wind
Use code PG92V to get this book free.
by Genia Stemper
Rating: 5.0 Stars
Category: Romance/Paranormal
Price: $0.00 Save $2.99
Rest Upon the Wind begins in Tonga in the 1600's. Two teens, best friends since early childhood, vow to stay together, even after their deaths. A tsunami tears them apart, killing them, and thus begins their journey. From lifetimes in Royal India, the Deep South during the Civil War and finally modern day California; their spirits learn and grow along the way until they fulfill their destinies.
Get this free Kindle book here: Rest Upon The Wind
******************************************

This book is no longer free
by Eugene H. Peterson
Rating: 3.0 Stars
Category: Religion & Spirituality
Price: $0.00 Save $16.99
The Invitation features Eugene's thoughtful introductions from The Message. Each passage offers fresh insights that provide a new perspective on timeless truths, while key Scriptures complement each section–all of which is wrapped in Eugene's warm, personable style that encourages and inspires. Readers will encounter a profound overview of the Bible that invites them to delve deeper into God's Word.
Get this free Kindle book here: The Invitation: A Simple Guide to the Bible
******************************************

This book is no longer free
by Tia McCollors
Rating: 4.2 Stars
Category: Christian Fiction
Price: $0.00 Save $13.99
Shelia Rushmore thought she'd be the last woman standing when it was time to fight for her man. Instead Ace, her boyfriend of two years, chose to reunite with his ex-wife, leaving Shelia emotionally devastated. It's a year later when Sheila is convinced that sneaking into their wedding ceremony will put closure on the gaping hole in her heart. But it's on the back pew of the church where a new relationship begins for Shelia. She can't explain the touch she received from God on that day, but she's determined to be a better woman-a woman of faith. Since high school, Shelia has been chasing her definition of the good life – it's left her with no home, no man, and no money. But now that's she's living life for God, things should get better, right? Shelia learns that living a faith-filled life isn't always easy.

With faith, tough love, and some tough decisions, Shelia realizes that the life she'd been praying for she could have for herself is actually attainable. Being wrapped in God's arms, she decided, was by far the safest place she'd ever been.
Get this free Kindle book here: Steppin' into the Good Life
If you would like to have the daily emails of free Kindle books and other Kindle news sent to your inbox sign up here.
You can have this blog sent wirelessly to your Kindle. Try it out with a free 14-day subscription here: Ereader News Today on your Kindle