Here are 3 more free Kindle books for today! The first one is free from Smashwords – you will need to use the code "MH48S". Instructions on how to get Smashwords books onto your Kindle are below.
Here's how to get books from Smashwords onto your Kindle
Check out today's Book Of The Day: Suspense
When you go to download free books make sure the price is $0.00 or they will NOT be free. This is why you need to download the free books asap – while they're still free. If you are outside of the United States, these books may not be free.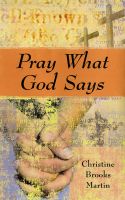 Pray What God Says
Use the code MH48S to get this book free.
by Christine Martin
Rating: 4.67 Stars
Genre: Religion & Spirituality/Christianity
Price: $0.00 Save $3.99
"Pray What God Says" is a valuable resource to help you deepen your relationship with God through prayer. Contains topical scriptures relative to every facet of life, so you can create scripturally-based prayers of petition and intercession for spiritual growth, family, finances and health.
Get this free Kindle book here: Pray What God Says
******************************************

This book is no longer free
by SAS Publishing
Genre: Computers & Internet
Price: $0.00 Save $1.99
SAS 9.3 ODS Graphics: Getting Started with Business and Statistical Graphics provides an overview and quick-start examples of ODS Graphics functionality, which is an extension of the SAS Output Delivery System (ODS). Many SAS procedures use ODS Graphics functionality to produce graphs as automatically as they produce tables. In addition, SAS provides a full suite of ODS Graphics software that facilitates the creation of custom, stand-alone graphs. This software includes the Graph Template Language, ODS Graphics procedures, ODS Graphics Designer, and ODS Graphics Editor. This ebook also explains how the ODS Graphics software components complement each other, and how they can be used together.
Get this free Kindle book here: SAS 9.3 ODS Graphics
******************************************

Venice Via Venice (1)
by SF Brailovsky
Genre: Romance/Time Travel
Price: $0.00 Save $0.99
Venice via Venice is a time travel romance novella. Our Hero, Sergio, is stuck between a rock and a hard place and he doesn't know the half of it! 500 years in the future in a city by the same name,Sergio will find what he needs to capture love. He's escaping from a miserable death sentence in Venice, Italy to a homeless revolution in Venice Beach and can't seem to find a moments rest. With a little bit of luck and the help of Leonardo Da Vinci, Sergio finds out what true love really is.
Get this free Kindle book here: Venice Via Venice (1)
If you would like to have the daily emails of free Kindle books and other Kindle news sent to your inbox sign up here.