Here are 3 more free Kindle books for today! The first is from Smashwords and you need to use the code below (next to the book cover) to get the book for free. Here's directions on how to get Smashwords books onto your Kindle: Here's how to get books from Smashwords onto your Kindle
Check out today's Book Of The Day: Bug Island
When you go to download free books make sure the price is $0.00 or they will NOT be free. This is why you need to download the free books asap – while they're still free. If you are outside of the United States, these books may not be free.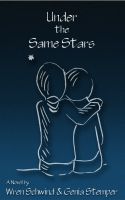 Under The Same Stars
Use code AA59R to get the book free.
by Genia Stemper
Genre: Drama
Price: $0.00 Save $2.99
Willow and Ben's world seems to crumble when their son Tommy is diagnosed with autism. When they accept that the dreams they had for their son aren't going to be realized, rather than give up hope for his future, they essentially change their dreams. Under the Same Stars is a story of one family's courage in the face of an all too common diagnosis. It is a story about perseverance, love, and hope.
Get this free Kindle book here: *affiliate link here*
******************************************

This book is no longer free
by Katherine Irons
Rating: 5.0 Stars
Genre: Romance/Fantasy
Price: $0.00 Save $14.00
Enter the realm of SEABORNE. . .and the achingly romantic world of Katherine Irons, a new talent who will break your heart and heal it all at the same time. . .

Take Me Away

Shrouded in mist, the hidden shoreline near her family's Maine estate is a place of refuge for Claire Bishop. There, she can forget the physical limitations imposed by a tragic accident and escape judgmental eyes. Yet someone is watching from the depths of the sea, a being who senses her inner despair and is drawn to help her. Prince Morgan, risen from the waves and as perfect a man Claire has ever laid eyes on. She is sure she has dreamed him into existence–Morgan's masculine beauty and sensual tenderness cannot be real. Then the dream overtakes reality. . .

With Morgan at her side, Claire is suddenly freed, swimming with him to a lost paradise, a fantastic underwater world with a sunken stone city at its heart. Soon the lovers find that their union has aroused the wrath of his warring clan–but Claire would rather die than return to her crippling life on earth, and Morgan will not live without the woman he adores…
Get this free Kindle book here: Seaborne
******************************************

This book is no longer free
by Delia Rosen
Rating: 3.6 Stars
Genre: Mystery/Women Sleuths
Price: $0.00 Save $6.99
Murder's on the menu in this savory debut.

Gwen (nee Katz) Silver heard the brisket at her uncle's Jewish deli, Murray the Pastrami Swami—the only one of its kind in Nashville, Tennessee—was "to die for." But she didn't realize that meant literally…

When Gwen learns she's inherited Murray's, the native New Yorker leaves her chaotic career and messy divorce behind to start over in Nashville. But the venture seems doomed from the start. Murray's taken his recipes and secret list of food suppliers to the grave with him, and ruthless real estate developer Royce Sinclair will stop at nothing to try and sandwich Murray's into his already overstuffed portfolio. Then, on Kosher Karaoke Night, longtime customer Buster Sergeant bites into his brisket…and bites the dust. The coroner says food poisoning, but Gwen's not convinced. Now, with the help of hunky police detective Beau McClintock, "Nashville Katz"—as Gwen is quickly nicknamed—will find herself adding "private investigator" to her resume—and a new love to her life.
Get this free Kindle book here: A Brisket, A Casket: (Deadly Deli Mystery)
If you would like to have the daily emails of free Kindle books and other Kindle news sent to your inbox sign up here.