Here are 3 more free Kindle books for today! The first book is from Smashwords and the last 2 are from Amazon. Instructions on how to get Smashwords books onto your Kindle are below.
Here's how to get books from Smashwords onto your Kindle
Check out today's Book Of The Day: Hope For The Holidays
When you go to download free books make sure the price is $0.00 or they will NOT be free. This is why you need to download the free books asap – while they're still free. If you are outside of the United States, these books may not be free.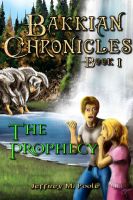 Bakkian Chronicles, Book I – The Prophecy
by Jeffrey Poole
Rating: 4.5 Stars
Genre: Fantasy
Price: $0.00
Griffins, Dragons, and BNPs (Bugs of Nightmarish Proportions). Who knew? It seemed harmless enough. See a mysterious door and step through to see what happens, right? Now stranded in a magical kingdom, husband and wife search for a way home. However, enlisting the aid of the king and queen has given them their biggest shock yet: Royal Babysitters. Some days it didn't pay to get out of bed.
Get this free Kindle book here: Bakkian Chronicles, Book I – The Prophecy
******************************************

The Perfect Plan
by Ty Hutchinson
Rating: 4.1 Stars
Genre: Psychological Thriller/Short Stories
Price: $0.00 Save $0.99
From the author of the wickedly funny action-thriller, Chop Suey, comes a psychological thriller that shows you how bad your day can get, when your perfect plan is perfectly wrong for you and perfectly right for someone else.

For Blade and Angel, everyday is about their next high. Tired of the daily jobs needed to support their habit, Blade hatches a scheme for a bank heist. It's the perfect plan.

Suddenly things go terribly wrong. Their plan crumbles and now they're forced to find a way out of this mess. And if that's not enough, someone in the bank just killed a hostage and it wasn't them.
Get this free Kindle book here: The Perfect Plan
******************************************

This book is no longer free.
by Deborah Grace Staley
Rating: 4.8 Stars
Genre: Contemporary Romance
Price: $0.00 Save $14.95
Book Two in Deborah Grace Staley's series about love and life in Angel Ridge, Tennessee. Dr. Janice Thornton has been lonely for too long, especially at Christmas. But Angel Ridge, Tennessee, the one place that holds the key to what family should be, is offering her a chance at a new life. Could she find happiness by taking over her uncle's small town practice? Local contractor and carpenter Blake Ferguson comes from a big family. He'd like to fill his rambling old Victorian with one of his own. But there's one problem. He needs a wife! When Janice shows up at his house, Blake sets a course to win her, but soon finds she's built a wall around her heart this master carpenter finds difficult to dismantle. Can the magic of an Angel Ridge Christmas bring hearts home or will old hurts create an obstacle even the town's legendary angels can't overcome?
Get this free Kindle book here: A Home For Christmas
If you would like to have the daily emails of free Kindle books and other Kindle news sent to your inbox sign up here.