Here are 3 more free Kindle books for today! The first one is from Smashwords – instructions on how to download books from Smashwords to your computer are included below.
Here's how to get books from Smashwords onto your Kindle
Check out today's Book Of The Day: The Witch Awakening
When you go to download free books make sure the price is $0.00 or they will NOT be free. This is why you need to download the free books asap – while they're still free. If you are outside of the United States, these books may not be free.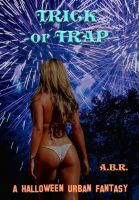 Trick Or Trap
by A.B.R.
Genre: Urban Fantasy
Price: $0.00
It is Halloween and demons are invading West Hollywood's Carnival. Also known as the Parade, it is the largest Halloween event in the world. The Bikini Girls, a team of bikini models and part-time crime fighters, are summoned to investigate and fight the demons. More spoof than spooky, the story is a treat with a few tricks and a fireworks show thrown in for an amusing Halloween read.
Get this free Kindle book here: Trick Or Trap
******************************************

Storytellers (Storytellers Saga)
by Martin C. Sharlow
Rating: 4.6 Stars
Genre: YA Fantasy
Price: $0.00 Save $0.99
Fantasy author Martin Sharlow starts a new series here with book one. He shows us a land of magic, where casters summon stories from works of fiction then use these story constructs for work, or for battle.

Thousands of years ago, the great Sage Montok Waynew signed the Book Accords, in which it was declared that all books must edify and instruct for the good of all mankind. Created in the hope to end the tyranny that had come into existence in their time, it was widely received and ratified by all living Sages as a good thing in the wake of the last great Story wars. So it went, that those books that were not found desirable were burned or destroyed, to protect all future generations.
Gailen, Alena and Targ find this peace is about to end. In a world where Sages can summon stories to life to do their bidding, these three apprentices must find where they belong, when the laws of the past seem to no longer exist.

Storytellers: Apprentice, is a 72,000 word count Young Adult Fantasy, which combines myth and legend with popular fantasy and a unique magic system. It is the first of a three part trilogy. That sets up future books and introduces the reader to the power of stories, and how they can be used for good and bad.
Get this free Kindle book here: Storytellers (Storytellers Saga)
******************************************

Baby Bonanza (Silhouette Desire)
by Maureen Child
Rating: 3.6 Stars
Genre: Contemporary Romance
Price: $0.00 Save $4.75
Twins? The startling revelation that his affair with Jenna Baker had produced two little boys was almost impossible to grasp. Tycoon Nick Falco had never considered himself the settling-down type, yet now that fatherhood had been thrust upon him, he was determined to give his sons his name. But their mother wasn't about to let him back into her life…at least not without those three little words Nick had never, ever said.
Get this free Kindle book here: Baby Bonanza (Silhouette Desire)
If you would like to have the daily emails of free Kindle books and other Kindle news sent to your inbox sign up here.