Here are 3 new free Kindle books. All of them have ratings over 4 stars. The first book, Gray Matter, is a pre-order that will be delivered on March 1, 2011. The third book, A Timely Death, is from Smashwords and requires a code (located next to the title below) to get the book for free.
When you go to download the free book make sure the price is $0.00 or it will NOT be free. This is why you need to download the free books asap – while they're still free. If you are outside of the United States, these books may not be free.
Gray Matter

by Joel Kilpatrick
Rating 4.7 Stars
Save $14.99
A perfect blend of medical drama and spiritual insight, Gray Matter is a fascinating account of Dr. David Levy's decision to begin asking his patients if he could pray for them before surgery. Some are thrilled. Some are skeptical. Some are hostile, and some are quite literally transformed by the request.
Each chapter focuses on a specific case, opening with a detailed description of the patient's diagnosis and the procedure that will need to be performed, followed by the prayer "request." From there, readers get to look over Dr. Levy's shoulder as he performs the operation, and then we wait—right alongside Dr. Levy, the patients, and their families—to see the final results.
Dr. Levy's musings on what successful and unsuccessful surgical results imply about God, faith, and the power of prayer are honest and insightful. As we watch him come to his ultimate conclusion that no matter what the results of the procedure are, "God is good," we cannot help but be truly moved and inspired.
Get this free Kindle book here: Gray Matter
******************************************
Riven

by Jerry B. Jenkins
Rating: 4.6 Stars
Category: Religious Fiction
Save $14.99
You would never expect the paths of Brady Darby and Thomas Carey to cross. The teenage Brady is an outsider from the wrong side of the tracks who's trying to find his place in life while still somehow protecting his little brother from their negligent mother. Thomas is a preacher without a flock, as he and his devoted wife, Grace, are forced to move towns once again after allowing membership at yet another church to dwindle under their watch. At every turn, Brady's decisions seem to backfire, even when he tries change by participating in the high school musical. At the same time, Thomas and Grace are immediately rejected by their latest congregation for refusing to give in to politics, and their only child seems to reject them and their lifestyle. Several years later, the worlds of Brady and Thomas collide at a juvenile halfway house. They act as life forces for each other even as their individual worlds sink deeper into misery. Christian fiction author Jenkins covers much ground in this weighty book, and while heroes are made out of those who come to God, Jenkins avoids preachiness and, instead, lets goodness shine. Expect demand as Jenkins' following grows with every outing. –Mary Frances Wilkens
Get this free Kindle book here: Riven
******************************************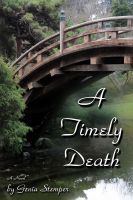 A Timely Death
Use code UK54Y to get this book free.
by Genia Stemper
Rating: 4.0 Stars
Category: Drama
Save $2.99
Grace has a gorgeous home in the hills of Southern California, a loving husband and two grown daughters. But just as Grace begins to enjoy her newfound freedom, her kids and grandchildren move back into the house. Then, when her father dies suddenly, she must care for her ailing mother. Grace reaches her emotional brink, and the family is forced to make a controversial decision.
Get this free Kindle book here: A Timely Death
Use code UK54Y to get this book free.
Here's how to get books from Smashwords onto your Kindle
If you would like to have the daily emails of free Kindle books and other Kindle news sent to your inbox sign up here.
You can have this blog sent wirelessly to your Kindle. Try it out with a free 14-day subscription here: Ereader News Today on your Kindle