Here are a couple of new free Kindle books for you today! The first book is from Amazon and is a free pre-order that will be delivered to your Kindle on April 19, 2011. The second book is from Smashwords and is always free, so there's no code needed.
Here's how to get books from Smashwords onto your Kindle
When you go to download free books make sure the price is $0.00 or they will NOT be free. This is why you need to download the free books asap – while they're still free. If you are outside of the United States, these books may not be free.

A Chunk of Hell

by Steven Sidor
After serving in the Pacific, Rick Conner returned from the war and opened a detective agency. He finds things, and his services don't come cheap. An old buddy from the Corps points him toward a job. But his new client, the eccentric millionaire Lazlo Belzoni, puts Conner immediately on guard.

Belzoni claims to be a doctor but seems more of a mystic. He's looking for a stone that was stolen from him. It's supposed to be some kind of relic. Conner is skeptical, but what's it to him as long as the good doctor pays top dollar. Rick finds the stone. And the moment he lays his hands on it, the game changes. He goes from hunting a thief to being hunted himself.

What's stalking him is far worse than he ever could've imagined.

"A Chunk of Hell," Steven Sidor's prequel to his stunning new novel Pitch Dark, is a runaway train of a story that will draw you into an adventure that has only just begun.
Get this Kindle book here: A Chunk of Hell
******************************************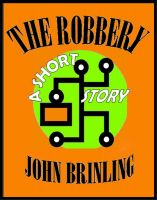 The Robbery: A Short Story
by John Brinling
Category: Mystery and Detective
Walter decided to rob his company when his business was failing and his wife, Muriel, no longer loved him. His plan was simple: grab the bearer bonds and run—worry about the details later.

Everything was fine until a Puerto Rican youth robbed him while he was making his escape.

Then Walter had to figure out how to get the bonds back—and that meant he had to assume the robbery was not merely a coincidence. That Muriel or his partner, Joe, or Luis, the cleaning man, had to be involved.

And that changed everything.

Now he was the victim.

And he had been shot during the robbery.

And the police would soon come around asking questions.

If things were bad before, they were terrible now.
Get this Kindle book here: The Robbery: A Short Story
If you would like to have the daily emails of free Kindle books and other Kindle news sent to your inbox sign up here.
You can have this blog sent wirelessly to your Kindle. Try it out with a free 14-day subscription here: Ereader News Today on your Kindle
Here's how to get books from Smashwords onto your Kindle