Here are two more free Kindle books for today! They are both from Smashwords and they both have perfect 5.0 star ratings! Use code SSWSF to get these books for free. Instructions on how to get the books from Smashwords onto your Kindle are below.
Here's how to get books from Smashwords onto your Kindle
When you go to download free books make sure the price is $0.00 or they will NOT be free. This is why you need to download the free books asap – while they're still free. If you are outside of the United States, these books may not be free.

The Awakening
Use code SSWSF to get this book for free.
Code is valid through July 31, 2011.
by Jeffrey Pierce
Rating: 5.0 Stars
Category: Thriller & Suspense
Save $0.99
What if everything you thought you knew was wrong?

We're taught in Sunday School that angels are benevolent beings who watch over us, who love and protect us at every turn. Yet the Revelation of John from the Christian Bible states that it is the angels who will pour out God's wrath on humanity, murdering billions of people. If you were an angel and truly loved those you watched over, could you destroy them, even if God commanded you to?

And if you couldn't, who would God send to do the job in your place?

Suspenseful, thrilling, and controversial, in The Awakening we find a world where nothing is quite what it seems, where the truth of spiritual reality has been distorted by millennia of folktales and mythology. While angels exist, they aren't what we believe them to be. They are the Old Ones, living among us from the time they were sent here, over 2,000 years ago, with a dark mission they chose to reject. Having fallen in love with mankind, some of the Old Ones work behind the scenes, teaching our great spiritual leaders while other immortals have entered into relationships with humankind, their angelic blood mingling with our own, manifesting in gifts widely considered to be psychic abilities and prophetic dreams.

Seamlessly weaving Hopi, Mayan and Christian prophesies with current events and the theories of quantum physics, The Awakening is a novel of the ending of a reality, of the reclaiming of a dimension that we call home. Told from a perspective beyond the filter of mythology, the beginning of the end is shown from a non-religious perspective while embracing the spiritual origins of our own existence.
Get this Kindle book here: The Awakening
******************************************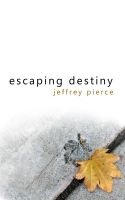 Escaping Destiny
Use code SSWSF to get this book for free.
Code is valid through July 31, 2011.
by Jeffrey Pierce
Rating: 5.0 Stars
Category: Epic Fantasy
Save $0.99
There is a world beyond our own, a place that resides backstage to our own reality. In a realm where magic is woven into the very fabric of the land, an ancient prophecy promises that thirteen mortals will alter not only this hidden world, but that they are the keys that will change the future of all existence.

The forces of darkness and light search for the thirteen mortals, their desperate race against the other factions blurring the line between good and evil, between hero and villain. One by one, the thirteen mortals are swayed or captured.

Kai Oakman is one of the thirteen mortals spoken of in the prophecy. With his faerie lover, Ko'laru, they seek to live free, their lives pledged only to each other. As the noose around the thirteen individuals tightens, as all of reality is swept up in the prophesied change, the mortals seek to escape their destiny but that choice may no longer be theirs to make.
Get this Kindle book here: Escaping Destiny
If you would like to have the daily emails of free Kindle books and other Kindle news sent to your inbox sign up here.
You can have this blog sent wirelessly to your Kindle. Try it out with a free 14-day subscription here: Ereader News Today on your Kindle