Here's another free Friday book from Joshua Graham. The Accidental Exorcist has a 4.72 star rating. Use the coupon code below to get this book free.
Here's how to get books from Smashwords onto your Kindle
When you go to download free books make sure the price is $0.00 or they will NOT be free. This is why you need to download the free books asap – while they're still free. If you are outside of the United States, these books may not be free.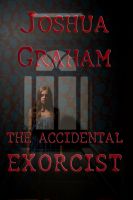 The Accidental Exorcist
Use coupon code MU79P to get this book free. Expires June 21, 2011
by Joshua Graham
Rating: 4.72 Stars
Category: Horror
Save $0.99
When forensic psychiatrist Abigail Lee meets a baby-killing mother who has been declared criminally insane and aquitted, she discovers something lurking beneath the surface. Something far deeper and more insidious than mere psychopathy. But can she come to terms with her own struggle with science and faith in time to confront it?
Get this Kindle book here: The Accidental Exorcist
If you would like to have the daily emails of free Kindle books and other Kindle news sent to your inbox sign up here.
You can have this blog sent wirelessly to your Kindle. Try it out with a free 14-day subscription here: Ereader News Today on your Kindle