Here's a free Kindle book for you tonight. Legend Of The Tiger's Throne by Ian Alexander comes with a free preview of Once We Were Kings – Ian Alexander's latest release! This book is available for free on Smashwords.
Here's how to get books from Smashwords onto your Kindle
When you go to download free books make sure the price is $0.00 or they will NOT be free. This is why you need to download the free books asap – while they're still free. If you are outside of the United States, these books may not be free.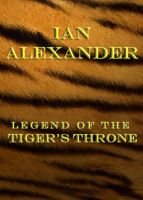 Legend Of The Tiger's Throne
by Ian Alexander (aka Joshua Graham)
Rating: 3.0 Stars
Category: Children's Fiction
A tale of the loyalty, honor and sacrifice of a young tiger, the heir to the mystical throne in a fantastical animal kingdom. Includes excerpts from Ian Alexander's bestselling epic fantasy novel ONCE WE WERE KINGS.
Get this Kindle book here: Legend Of The Tiger's Throne
If you would like to have the daily emails of free Kindle books and other Kindle news sent to your inbox sign up here.
You can have this blog sent wirelessly to your Kindle. Try it out with a free 14-day subscription here: Ereader News Today on your Kindle