Here's another free Kindle book for today. Four Gifts Four Aria by Joshua Graham has a 4.9 star rating. This is available free from Smashwords. You need to use the code below to get the book for free.
Here's how to get books from Smashwords onto your Kindle
When you go to download free books make sure the price is $0.00 or they will NOT be free. This is why you need to download the free books asap – while they're still free. If you are outside of the United States, these books may not be free.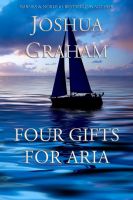 Four Gifts Four Aria
Use code NG54P to get this book free.
Code Expires July 14, 2011
by Joshua Graham
Rating: 4.9 Stars
Category: Historical Romance
Save $0.99
A young runaway finds himself in the employ of Huntington Manor, where he falls in love with Aria, the sweet and enigmatic daughter of Lord Huntington. In a clash of station and pride, denied love and tragedy, overshadowed by the horrors of World War I, FOUR GIFTS FOR ARIA takes you on a heart-wrenching journey of love, sacrifice and redemption.
Get this Kindle book here: Four Gifts Four Aria
If you would like to have the daily emails of free Kindle books and other Kindle news sent to your inbox sign up here.
You can have this blog sent wirelessly to your Kindle. Try it out with a free 14-day subscription here: Ereader News Today on your Kindle