Here is another free Kindle book for today! This is from Smashwords and you need to use code FX74X to get this book free.
Here's how to get books from Smashwords onto your Kindle
When you go to download free books make sure the price is $0.00 or they will NOT be free. This is why you need to download the free books asap – while they're still free. If you are outside of the United States, these books may not be free.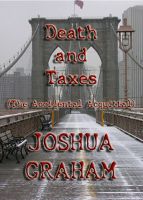 Death And Taxes
Use code FX74X to get this book free.
Code expires 7/26/11
by Joshua Graham
Rating: 4.83 Stars
Category: Suspense
Save $0.99
A New York District Attorney seeks to end his own life after his life has fallen apart as a result of keeping a dark secret which has hollowed him from the inside out. But along the way, he finds a surprise that could alter his destiny.
Get this free Kindle book here: Death And Taxes
If you would like to have the daily emails of free Kindle books and other Kindle news sent to your inbox sign up here.
You can have this blog sent wirelessly to your Kindle. Try it out with a free 14-day subscription here: Ereader News Today on your Kindle