Here's another free Kindle book for today! This one is from Smashwords and you'll need to use the code SSWSF to get it for free.
Here's how to get books from Smashwords onto your Kindle
When you go to download free books make sure the price is $0.00 or they will NOT be free. This is why you need to download the free books asap – while they're still free. If you are outside of the United States, these books may not be free.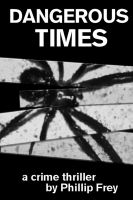 Dangerous Times
Use the code SSWSF to get this book free.
Code valid until 7/31/11
by Phillip Frey
Rating: 4.43 Stars
Category: Mystery & Detective
Save $2.99
DANGEROUS TIMES is a contemporary noir crime-thriller with dark humor and the pull of the unpredictable. This book is not for the squeamish. It begins as a creepy slow burner that leads to sex, violence, murder, and betrayal.

Frank Moore's impish playfulness makes him an alluring antagonist — a criminal who has come up with an outrageous, malevolent plan. After a frustrating search he has finally found the key to its success. Frank has found his look-alike, a close-enough double: John Kirk.

In San Pedro, auto mechanic John Kirk leads a troublesome life, common troubles that escalate to the dreadful when Frank Moore comes to town. John Kirk, hunted down and pegged for death without knowing why.
Get this free Kindle book here: Dangerous Times
If you would like to have the daily emails of free Kindle books and other Kindle news sent to your inbox sign up here.
You can have this blog sent wirelessly to your Kindle. Try it out with a free 14-day subscription here: Ereader News Today on your Kindle