Here's a free Kindle book for you this morning! Consider Us Even, a short story by Jarrett Rush, has a 5 star rating and is available free from Smashwords – no code needed!
Here's how to get books from Smashwords onto your Kindle
When you go to download free books make sure the price is $0.00 or they will NOT be free. This is why you need to download the free books asap – while they're still free. If you are outside of the United States, these books may not be free.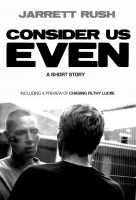 Consider Us Even
by Jarrett Rush
Rating: 5 Stars
Category: Mystery & Detective
It's a grimy future and data is a drug. Solis is an addict willing to do whatever it takes to get his fix — even if that's calling in debts and trading punches with a few guys he considers friends. Included with this story is an excerpt of the novella Chasing Filthy Lucre.
Get this free Kindle book here: Consider Us Even
If you would like to have the daily emails of free Kindle books and other Kindle news sent to your inbox sign up here.
You can have this blog sent wirelessly to your Kindle. Try it out with a free 14-day subscription here: Ereader News Today on your Kindle