Here is a highly rated bargain Kindle book and a free Kindle book for you. Both books are a perfect 5 stars! The free book is from Smashwords but no code is needed – it's already free.
Here's how to get books from Smashwords onto your Kindle
When you go to download free books make sure the price is $0.00 or they will NOT be free. This is why you need to download the free books asap – while they're still free. If you are outside of the United States, these books may not be free.

At The Lake

by Lou Grantt
Rating: 5 Stars
Cost: $0.99
Set amidst the turbulent times of the late sixties, this beautifully honest novel brings the period to life – from the clothing and music of the day to the controversies and personal choices surrounding the country's involvement in Viet Nam. Ginny McNally must choose the path her life will take – a path that leads to love with one of the two men who pursue her, or the path to her truest love, music. And both paths tarry for a while in a little resort town called Greenwood Lake.
Get this Kindle book here: At The Lake
******************************************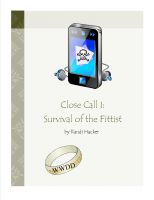 Close Call I – Survival Of The Fittest
by Randi Hacker
Rating: 5 Stars
Category: Sci Fi/Fantasy
The date is 46 ACC. It is 46 years after Close Call, the anthroposcyber virus (ACV) catastrophe that brought human kind to the brink of extinction. One group of survivors, known as the Fittists, is holding a special coming of age ritual and Leila, the granddaughter of the High Priestess, will do anything to avoid being part of it.
Get this Free Kindle book here: Close Call I – Survival Of The Fittest
If you would like to have the daily emails of free Kindle books and other Kindle news sent to your inbox sign up here.
You can have this blog sent wirelessly to your Kindle. Try it out with a free 14-day subscription here: Ereader News Today on your Kindle