Today's Book of the Day is a highly rated collection of Short Stories from author Steve Silkin. The Forbidden Stories has a perfect 5.0 star rating and is only 99 cents!
""Forbidden stories" is a collection of vivid, expertly crafted fiction stories spanning a wide range of events told with passion, nostalgia and – some of them – a relaxed wisdom that borders a zen-like attitude. This is a great collection of stories – and a must for literature lovers." Gabriela P. – Amazon Reviewer

The Forbidden Stories
by Steve Silkin
Rating: 5.0 Stars
Genre: Short Stories
Price: $0.99
Eros and Thanatos: Stories of sex and death.

– A private investigator has some questions for a young drug dealer about the murder of a girl who dated his friend.
– A woman tells the story of her very short, very strange first marriage.
– Encounters with criminals on a trip to Europe.
– A girl invites a boy for a tryst at a Malibu condo, and it becomes one of the last stops in their love affair.

And more. … Some of the stories are conventional, others experimental.
Here's what the reviewers have to say:
These stories, forbidden or not, are written in prose so clear it's nearly transparent, allowing you to see all the way to the deep sense of loss that lies like muck at the bottom. I've enjoyed Silkin's other books but this one's my favorite, and not just because I have a crush on Cake Girl.
*******
This book is expertly crafted and a great read. The prose will entice all of your senses and you will refuse to put it down.
*******
These are great stories. Really enjoyed them. Transgressive, odd, some straight ahead, some dreamlike and surreal. Highly unusual and original.
*******
After reading Silkin's "The Cemetery Vote" I couldn't wait to sample more from this perceptive talent. I've read all his books now, but this one was my favorite. With "Forbidden Stories" Silkin has taken that forbidden step into the dark recesses of human relationships, and this is something that most of us dare not do. What makes this collection of stories so disconcerting is that they resound with the clear ring of truth.
Get The Forbidden Stories here: The Forbidden Stories
About The Author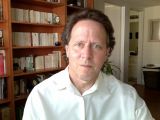 Steve Silkin was born in New York, grew up in Los Angeles, then traveled across Europe. He once escaped arrest for trespassing at a skyscraper under construction by fleeing from the LAPD on his bicycle.
Thank you for considering today's Book Of The Day – Steve Silkin and ENT appreciate it.