Here's a bargain Thriller with a perfect rating and it's also today's Book Of The Day. The Cemetery Vote
by Steve Silkin has a 5.0 star rating and costs only 99 cents!
A tale that will have you wanting to move to LA just to see if it is true. I could not put it down even to sleep. Just click the one click and prepare for the LA you know you want.
– Free Book Reviews

The Cemetery Vote

by Steve Silkin
Rating: 5.0 Stars
Category: Thriller
Price: $0.99
Sex, drugs and election fraud: Jace Kingman, a drug dealer, is recruited to round up Latino day laborers and take them to the polls on Election Day. Dan Vienna, a fired police officer on the road to become an internet porn producer, tries to extort a million dollars from a losing candidate for U.S. Senate by claiming he can prove the election was stolen. Jace and Dan will cross paths as both schemes go awry. Can they save themselves? Or will they destroy each other?
Here's what the reviewers have to say:
An intriguing story told with a witty sideways deadpan. I really enjoyed this one. It's got a bit of everything, including a not-so tacit reminder that living in LA really is just like you are always told it could be – a scary wonderful read.
*******
Like Silkin's other work, The Cemetery Vote is a wonderful read, almost old-fashioned in that it features interesting characters doing interesting things, the way books used to, back in the day. The writing itself is far from stodgy though, and the plot moves along at a good clip. The matter-of-fact seediness of life in Los Angeles is sympathetically yet realistically rendered throughout. All in all, very enjoyable stuff.
*******
Author Steve Silkin did an amazing job with this–producing a well-told and fast-moving story about life, politics and redemption in 1990s Southern California.
I especially enjoyed Silkin's characters and how he used them–just as much as he used events–to drive the story.
Get The Cemetery Vote here: The Cemetery Vote
About The Author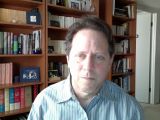 Steve Silkin was born in New York, grew up in Los Angeles, then traveled across Europe. He once escaped arrest for trespassing at a skyscraper under construction by fleeing from the LAPD on his bicycle.
Thank you for considering today's Book Of The Day – Steve Silkin and ENT appreciate it.