Today's Book of the Day is a Contemporary Romance novel by Rachel Schurig and it's 75% off for a limited time. Lovestruck in London has a 4.2 star rating and is on sale for only 99 cents – save $3!
"The romance is totally sweet and G-rated, but the writing was solid and very captivating." Louise – Amazon Reviewer

Lovestruck in London
by Rachel Schurig
Rating: 4.2 Stars
Genre: Contemporary Romance
Price: $0.99 save $3
Sweet New Adult Contemporary Romance from the author of the Three Girls series!

Lizzie Medina went to London to reinvent herself. Tired of being the quiet baby sister, and in no hurry to settle into a boring existence in surburbia, she escapes from home at the first opportunity. When she settles in London for a year of post-graduate studies, Lizzie is sure she'll be able to start a whole new life. Immerse herself in the books she loves. Explore a new country. Work on her dream of writing a novel. She might even be able to find a little bit of excitement for once.

But falling unexpectedly in love with up-and-coming actor Thomas Harper causes Lizzie to re-think… everything. Just as she's convinced herself this small-town girl from the Midwest can handle this great adventure, Thomas's career suddenly explodes to superstar levels, and Lizzie finds herself forced to navigate the fame game of red carpets, catty co-stars, gossip magazines, and paparazzi. When she wished for a new life, she had no idea it would be anything like this!

Lizzie must now determine if her love—and her confidence—are strong enough to get her through the complications of dating a movie star. Even if she and Thomas are able to pull through before she has to leave London, how will she deal with the inevitability of returning to a life at home that no longer feels like her own? Will she follow her family's wishes or follow her heart? Will the Lizzie she discovered in London be strong enough to help her pursue her dreams?
Here's what the reviewers have to say:
It's a fun, enjoyable book that strikes a good balance between a sweet romance and serious issues around forming a connection with someone who lives far away and also controlling families.
*******
I absolutely loved the story captured here! This book had a great moral! Be yourself even if it's not what is expected from you. I love how this was added into the book.
*******
This sweet, enthralling, fun novel lets you enjoy the historical aspects of England, while capturing you in an intense romance involving its main characters.
*******
A good job of developing the two main characters and also giving you a back story on them with out being boring. It was a fun and easy read. I would recommend this book to readers who want a nice, easy read that will make you laugh, smile and wanting to read more of Rachel's books.
*******
This is a book about the choices we make. It is about living your life for yourself and not for those around you. Making choices that make you happy. Although this was a light and easy chick lit read it still dealt with real issues that face real people. The characters were developed well and the backdrop of London was beautiful. I recommend that you pick up this book for a fun beach read… sit back and enjoy!

Get Lovestruck in London here: Lovestruck in London
About The Author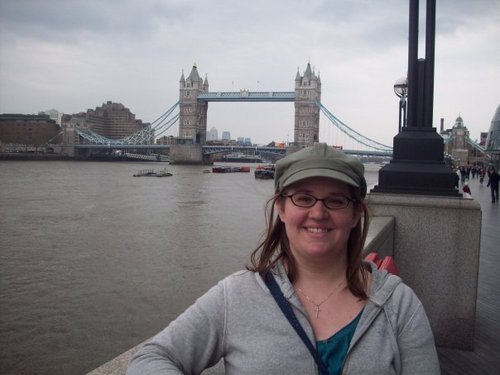 Rachel Schurig lives in the metro Detroit area with her dog, Lucy. She loves to watch reality TV and she reads as many books as she can get her hands on. In her spare time, Rachel decorates cakes. Her THREE GIRLS series is available now from Amazon!
You can visit Rachel at http://rachelschurig.com
Sign up for the mailing list for special offers, news, and exclusive content! http://eepurl.com/sDyHb
Find Rachel on Facebook at www.facebook.com/RachelSchurigAuthor
Thank you for considering today's Book Of The Day – Rachel Schurig and ENT appreciate it.