Today's Book of the Day is a brand new release by award-winning, bestselling author, Joshua Graham. Darkroom, a Mystery/Suspense novel just released today, has a perfect 5.0 star rating, and is available for $9.99!
"Darkroom is a fascinating, fast-paced, beautifully written story of love and war, murder, terrorism, and a dark conspiracy." — Douglas Preston, New York Times bestselling author

Darkroom
by Joshua Graham
Rating: 5.0 Stars
Category: Mystery/Suspense
Price: $9.99
Visit Joshua Graham's website
Joshua Graham on Facebook
Joshua Graham on Twitter
First Prize Winner of the 2011 Forward National Literature Awards
Award-Winning Finalist in the Mystery/Suspense category of The USA "Best Books 2011″ Awards

After scattering her mother's ashes in Vietnam, photojournalist Xandra Carrick comes home to New York to rebuild her life and career. When she experiences supernatural visions that reveal atrocities perpetrated by American soldiers during the Vietnam War, she finds herself entangled in a forty-year-old conspiracy that could bring the nation into political turmoil.

Launching headlong into a quest to learn the truth from her father, Peter Carrick, a Pulitzer Prize Laureate who served as an embedded photographer during the war, Xandra confronts him about a dark secret he has kept–one that has devastated their family.

Her investigations lead her to her departed mother's journal, which tell of love, spiritual awakening, and surviving the fall of Saigon.

Pursued across the continent, Xandra comes face-to-face with powerful forces that will stop at nothing to prevent her from revealing the truth. But not before government agencies arrest her for murder, domestic terrorism and an assassination attempt on the newly elected president of the United States.

Darkroom is a riveting tale of suspense that tears the covers off the human struggle for truth in a world imprisoned by lies.
Make sure to join in the Darkroom online launch party later on this evening!
We'll open the chat lines for Q&A's, and a chance for readers to win a brand new Kindle Fire or Nook Tablet, Free eBooks, and autographed copies of paperback and hardcovers by the author himself!

DATE: MAY. 1st, 2012
TIME: 6:00PM Pacific / 9:00PM Eastern
How to join:
– click this link: http://t.wbx.me/ges8v
– use the guest tab (not registered users tab)
– enter your name in the guest field
– click enter button to join

Here's what the reviewers have to say:
Darkroom comes complete with a great mystery, unearthed secrets, and beguiling adventure. Joshua Graham mines an emotional landscape through an entourage of fascinating characters. Read this one—and take a walk on the perilous side. — Steve Berry, New York Times bestselling author
*******
Graham's intricate weaving of truth and deceit keeps the pages turning, and with a wide-open ending hinting at the return of feisty and insightful heroine, Xandra Carrick, Darkroom is a novel you won't regret being exposed to.
*******
If you love narrow escapes, deep secrets, on-the-edge-of-your-seat action, and murders, you will love this thriller. Graham is a commanding writer that will keep any lover of thrillers entertained with his non-stop action and unbelievable revelations of things that could easily happen. As you near the end, you realize there are very powerful messages being sent out to the reader. Dark Room can't be labeled anything but an excellent read. 5/5
*******
I definitely recommend this. It's so beyond 5000 stars worthy. The intensity and heart pounding thrills you'll feel as you read each page, each characters piece of the story will leave you breathless. Blending history with current events, Mr. Graham is a talented author who can wrap the reader in a cocoon of emotions from bitterness to redemption and leave the reader feeling as if they were the story, as if they were ones plotted against. A fantastic job, Mr. Graham! I can't wait for the next story!
*******
"Darkroom is a twisted tale of conspiracies [that] moves at a frantic and suspenseful pace. . . . Mr. Graham immediately grabs hold of the reader with the tenacity of a pit bull and will not let go until you have read every last page and emerge exhausted and happily satiated from this astonishing ride. . . . I would not hesitate to recommend Darkroom . . . You won't be disappointed." – PsychoticState.net Book Reviews
Get Darkroom here: Darkroom
About The Author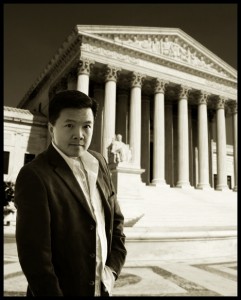 Winner of the 2011 INTERNATIONAL BOOK AWARDS, and Amazon.com #1 bestselling author Joshua Graham's Barnes & Noble #1 bestselling novel BEYOND JUSTICE is taking the world by storm, one reader at a time. Many of his readers blame him for sleepless nights, arriving to work late, neglected dishes and family members, and not allowing them to put the book down.
BEYOND JUSTICE, THE ACCIDENTAL EXORCIST, THE ACCIDENTAL HERO, THE ACCIDENTAL HEALER, and DEATH AND TAXES, have reached the top of multiple bestseller list on Barnes & Noble topping titles by John Grisham, Linda Fairstein, Scott Turrow and James Lee Burke, Ted Dekker and Steven James. Soaring to the top of the Barnes & Noble lists, BEYOND JUSTICE recently hit #1 in the Legal Thriller and Christian Thriller categories, topping by John Grisham, Joel C. Rosenberg, and Michael Connelly. It has also remained on the Amazon.com top 100 bestselling Kindle bestseller list months after its release.
Suspense Magazine listed BEYOND JUSTICE in its BEST OF 2010, alongside titles by Scott Turrow, Ted Dekker, Steven James and Brad Thor.
His short story THE DOOR'S OPEN won the HarperCollins Authonomy Competition (Christmas 2010.)
Publishers Weekly described BEYOND JUSTICE as:
"…A riveting legal thriller…. breaking new ground with a vengeance… demonically entertaining and surprisingly inspiring."
Under a different pen name, Joshua has been published in three Simon & Schuster anthologies. He's a graduate of the Oregon Professional Writers Masterclass run by Dean Wesley Smith and Kristine Kathryn Rusch.
Joshua Graham grew up in Brooklyn, NY where he lived for the better part of 30 years. He holds a Bachelor and Master's Degree and went on to earn his doctorate from Johns Hopkins University. During his time in Maryland, he taught as a professor at Shepherd College (WV), Western Maryland College, and Columbia Union College (MD).
Today he lives with his beautiful wife and children in Southern California. Several of Graham's short fiction works have been published by Pocket Books and Dawn Treader Press.
BEYOND JUSTICE is now available in Trade Paperback through Amazon.com as well as Barnes and Noble. It's available at the Kindle store, and can be purchased for other ebook readers at Smashwords. It als available for the iPad, SONY E-Reader and Nook.
Writing under the pen name Ian Alexander, Graham will debut with his first Epic Fantasy novel ONCE WE WERE KINGS, to be released May 2011 in ebook and hardcover soon after.
Look for his next Suspense/Thriller DARKROOM (Simon & Schuster/Howard Books) to be released Spring 2012!
www.joshua-graham.com
www.facebook.com/j0shuagraham
www.twitter.com/J0shuaGraham
www.ianalex.com
http://on.fb.me/IanAlex
www.twitter.com/IanAlex77
Thank you for considering today's Book Of The Day – Joshua Graham and ENT appreciate it.