ENT's Book Of The Day is Beyond Justice by Joshua Graham. Joshua is one of the more popular authors among ENT readers and he is one of my favorites. If you've been reading the ENT posts for any amount of time, you've probably already downloaded one of the many free books that he has made available for us. If you don't already have Beyond Justice, make sure to check it out.

BEYOND JUSTICE

Nook Users go here: Beyond Justice
by Joshua Graham
Rating: 4.4 Stars
Category: Legal Thriller
Price: $2.99
THE DESCENT INTO HELL IS NOT ALWAYS VERTICAL…

Sam Hudson, a reputable San Diego attorney, learns this when the authorities wrongfully convict him of the brutal rape and murder of his wife and daughter, and sends him to death row. There he awaits execution by lethal injection.

If he survives that long.

In prison, Sam fights for his life while his attorney works frantically on his appeal. It is then that he embraces the faith of his departed wife and begins to manifest supernatural abilities. Abilities which help him save lives– his own, those of his unlikely allies–and uncover the true killer's identity, unlocking the door to his exoneration.

Now a free man, Sam's newfound faith confronts him with the most insurmountable challenge yet. A challenge beyond vengeance, beyond rage, beyond anything Sam believes himself capable of: to forgive the very man who murdered his family, according to his faith. But this endeavor reveals darker secrets than either Sam or the killer could ever have imagined. Secrets that hurtle them into a fateful collision course.
Here's what the reviewers have to say:
"This tense, fast-paced story of outrageous injustice, insidious evil, and looming disaster has everything the savvy reader should expect, and more. [Graham] belongs to a new, emerging wave of writers who dare to color outside conventional lines. And he does so with style!"
Glen Scorgie, THE JOURNEY BACK TO EDEN (Zondervan)
*******
I will give you fair warning before you pick up Beyond Justice by Joshua Graham – – the next 24 to 48 hours of your life will be utterly consumed by this book.
Amazon Customer
Get Beyond Justice here: BEYOND JUSTICE
About The Author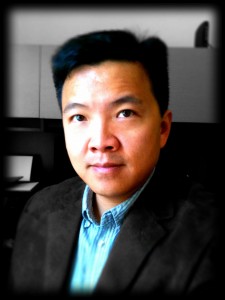 Award winning writer Joshua Graham's #1 bestselling novel (Barnes & Noble ebooks) BEYOND JUSTICE is taking the world by storm, one reader at a time. Many of his readers blame him for sleepless nights, arriving to work late, neglected dishes and family members, and not allowing them to put the book down.
BEYOND JUSTICE, THE ACCIDENTAL EXORCIST, THE ACCIDENTAL HERO, THE ACCIDENTAL HEALER, and DEATH AND TAXES, have reached the top of multiple bestseller list on Barnes & Noble topping titles by John Grisham, Linda Fairstein, Scott Turrow and James Lee Burke, Ted Dekker and Steven James. Soaring to the top of the Barnes & Noble lists, BEYOND JUSTICE recently hit #1 in the Legal Thriller and Christian Thriller categories, topping by John Grisham, Joel C. Rosenberg, and Michael Connelly. It has also remained on the Amazon.com top 100 bestselling Kindle bestseller list months after its release.
Suspense Magazine listed BEYOND JUSTICE in its BEST OF 2010, alongside titles by Scott Turrow, Ted Dekker, Steven James and Brad Thor.
Publishers Weekly described BEYOND JUSTICE as:
"…A riveting legal thriller…. breaking new ground with a vengeance… demonically entertaining and surprisingly inspiring."
Under a different pen name, Joshua has been published in three Simon & Schuster anthologies. He's a graduate of the Oregon Professional Writers Masterclass run by Dean Wesley Smith and Kristine Kathryn Rusch.
Joshua Graham grew up in Brooklyn, NY where he lived for the better part of 30 years. He holds a Bachelor and Master's Degree and went on to earn his doctorate from Johns Hopkins University. During his time in Maryland, he taught as a professor at Shepherd College (WV), Western Maryland College, and Columbia Union College (MD).
Today he lives with his beautiful wife and children in San Diego. Several of Graham's short fiction works have been published by Pocket Books and Dawn Treader Press.
Check out Joshua Graham's website here.
Thank you for considering today's Book Of The Day – Joshua Graham and ENT appreciate it.